« October 2004 | Main | December 2004 »
photoshop album unlock
November 30, 2004
It's about time - World of Warcraft review is out
Gamespot has ventured forth with an astounding 95/Superb rating. This is notable for a couple of reasons. First, we believe it s the highest rated MMO in Gamespot history. Yes, that s a big deal. We admire GS s staff of writers. Second, it s the excuse thousands, if not millions, of us have been waiting for. MMOs are tough to get into. A lot of us have never found much to like about questing and levelling up in an online environment. So, Warcraft fans who have never tried an MMO, will now give it a trial run. If this game is as good as the review says it is, Blizzard has just given the genre a bigger audience to draw from.
Excerpt:
Though massively multiplayer online role-playing games have been around for years, it has taken this long for the genre's breakthrough hit to finally emerge. Here is the online role-playing game you should play, no matter who you are. This is because World of Warcraft brings out all the best aspects of this style of gaming, if not many of the best aspects of gaming in general. It also features many of the specific characteristics that have made Blizzard Entertainment's previous games so entertaining, memorable, long-lasting, and successful. Of course, the company's past track record did not guarantee that World of Warcraft could have turned out this well. Such high quality simply cannot be expected, nor should it be missed.
Posted by tshey at 02:19 PM
Genetic modification can be great
If you lived in places where landmines continue to regularly kill or maim members of your community, I bet you'd think these plants are really really cool.
"A Danish company, Aresa Biodetection, has developed genetically-modified flowers that change color when their roots come in contact with nitrogen dioxide in the soil. Explosives used in mines produce NO2 as the chemicals gradually decay. The company plans to sow fields of NO2-sniffing
Arabidopsis thaliana
(Thale or mouse cress) in areas riddled with long-forgotten ordinance from Angola to Cambodia.
The effort's life- and limb-saving potential is staggering: More than 100 million land mines kill or injure 26,000 people in 45 countries each year. Today's most popular detection method is poking around with a stick."
(via)
Posted by tshey at 02:15 PM
Nintendo DS gets some hacker loving
You knew it would happen. The Nintendo DS has so many features, it s a hackers dream come true. Sure, Nintendo is notorious for dodging hacks but when they added Wi-Fi to their repertoire, they were just asking for that special attention. The beginning of the process starts here. It s nothing too sexy; just
a method to capture Pictochat sessions
. But it will lead to bigger things. Sexy things. The kinds of things that will have you plunking down 200 bucks so you can join the DS frenzy.
Posted by tshey at 11:10 AM
Homeless people as walking ads?
Ben & Jerry's Ice Cream is reportedly about to take advantage of a new "media opportunity" in Amsterdam.
The nuns of a local convent need more funds to continue their charity work with the homeless, so they have come up with a novel approach, and their first takers are Ben & Jerry's, The ice cream company is providing lots of winter jackets for them to distribute to the People of the street". On the jackets is emblazoned the Ben & Jerry logo, turning the tramps into walking ambassadors for this American ice cream.
Via The Guardian.
Posted by tshey at 11:06 AM
Sound drawings
The Paragraphie installation, by Manon De Pauw, has a very low-tech appearance: a chair, a table with used paper and pencils.
You can write, draw, scribble, tear, rub, tap... Microphones inserted in the table pick up the sounds generated and turn them into video loops that are projected onto the table. Virtual hands appear on the writing surface, suggesting actions and leaving traces that are superimposed on those of the participant.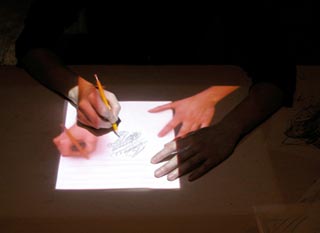 This situation explores physical and mental attitudes that often accompany the writing process: a place of frustration and pleasure, communication and withdrawal into oneself.
Posted by tshey at 11:01 AM
Things To Do Before You Die
Lu Xun writes
"A group of British scientists has brought some meaning to our lives by providing a list of 100 scientifically-oriented things to do before you die. The suggestions include 'joining the 300 Club at the South Pole (they take a sauna to 200 degrees Fahrenheit, then run naked to the pole in minus 100 F) or learning Choctaw, a language with two past tenses - one for giving information which is definitely true, the other for passing on material taken without checking from someone else.'"
Posted by tshey at 10:56 AM
Notable Quotes (Reuters)
"I thought I should try to look a little sharper before my IRS audit."
--Documentary film maker and President Bush (news - web sites) critic MICHAEL MOORE to Tonight Show host Jay Leno on why he appeared on the show in a suit and tie instead of his usual unkempt look.
Posted by tshey at 10:51 AM
Gomez Bueno Hits Sunset Boulevard
Gomez Bueno
, an artist who we've been really digging of late, has been busy painting and installing these pieces in Los Angeles. You can see them at 1478 Sunset Blvd in Echo Park, Los Angeles. Gomez will be having an opening day party this coming Saturday December 4th from 2 to 4 pm. Free beer. Check it out if you're in town. We'd be there if we could.
Via Wooster Collective / A Celebration of Street Art
Posted by tshey at 10:47 AM
November 29, 2004
Today I Hacked reBlog : End of Era for Data Control
Today I hacked Eyebeam's reBlog. It was very easy. Without any passwords or technical expertise, I gained, and by the time of this post, continue to maintain control of their content.
read more at her post, i am glad to have played a crucial part in this mini project/political statement. :-) -- AP
Posted by tshey at 06:41 PM
Keyhole
We're still a few years shy of being able to put up personal Earth-observing satellites. In the meantime, you can always take advantage of images from satellites owned and operated by someone else. We've posted about the "Public Eye" project run by the DC think tank Global Security a few months ago, which makes current pictures of hotspots around the world available to the public: timely, possibly informative, but narrow in scope. We've also posted about the ESA making satellite data on land use patterns available to the public: possibly timely, definitely informative, moderately narrow (EU only). Today we have Keyhole, a satellite company recently acquired by Google. Keyhole is making its Earth observation software available for free download and 7 day use, allowing you to zoom from place to place. The entire world is covered, to varying degrees of detail (with some locations showing sufficient detail to pick out individual people). Windows-only, and no longer free after the 7 day trial, but worth checking out.
Biggest problem, though: it's not live, updated data. It's shots from over the last few years, some from as far back as 1999, others from just several months ago. So we add to our list Keyhole: not at all timely, moderately informative, but very broad in scope. And a lot of fun to play with.
(Posted by Jamais Cascio in QuickChanges at 02:18 PM)
Posted by tshey at 06:39 PM
15th Street Explodes
Moth posted a photo:
Had a bit of excitement at 15th & L St today here in D.C. as a series of grinding explosions rumbled from underground, cutting power to the building next door and spewing foul black and orange smoke into the street.
Here's a view from an hour later, as the street is still closed off and firefighters have climbed down into the hole, despite a new series of explosions just fifteen minutes ago. The Washington Post headquarters is the tan building on the left.
Posted by tshey at 06:38 PM
Cellphone to vibrate in tune
The Wall Street Journal
, in an interesting article on the technology behind haptics, derived from the Greek word meaning "to touch", writes that early next year, Samsung Electronics Co. is planning to produce
the first cellphone that vibrates in tune with popular ring tones
, using a similar technology.
Posted by tshey at 04:42 PM
Paralyzed Woman Walks Again
mgv
writes
"It's been promised for years, but it's just become a reality. Stem cells taken from cord blood have enabled a paralysed woman in South Korea to walk again for the first time in 20 years. The details are on the Sydney Morning Herald Site which requires registration, but can also be seen on the World Peace Herald. Too late for Christopher Reeve, but not for the thousands of new injuries worldwide each year or the millions of paralysed people from other diseases in the world."
[ts: cord blood stem cells are not the same as embryonic stem cells, as noted by a slashdot commenter.]
Posted by tshey at 04:37 PM
The Thoroughly Designed American Childhood
Regarding the previous post: the Robosapiens article was part of this week's NYTimes Magazine's Design 2004 issue, "The Thoroughly Designed American Childhood," with several additional interesting articles, including one about the Geppetto Group, an advertising firm that specializes in targeting kids (and their mothers) for clients like the one profiled, a new family eatery called Ozon.
Read: "Hey, Mom, Is It O.K. If These Guys Market Stuff to Us?"
Posted by tshey at 03:02 PM
A Robot for the Masses
Totally enjoyable article about Robosapien, "the $99 humanoid that belches, dances and, if you know what you're doing, picks up your socks," and its creator, former NASA/Los Alamos roboticist Mark Tilden. (Robosapien also appeared recently here on shey.net, demonstrating its ability to charm the ladies.) An excerpt:
...Tilden made many of the final decisions about the toy's development. He decided on its appearance and character. Should the robot be like a Japanese TV robot? RoboCopish? ''Star Wars''-like? Tilden wanted it to be a robot that looked like a robot and was ''pure bot,'' without any merely decorative features. Tilden insisted that the robot not speak English, or any other language. Instead, he told me, ''I put my own body gestures and even sounds in there.'' When the machine grunts, it is Tilden's recorded grunt you hear, his ''ouch,'' wolf-whistle and belch. If the original prototype had 24 transistors, Robosapien has millions in one small, intricately patterned board controlling all seven motors and one tiny chip holding 12 kilobytes of programming. Tilden recalled: ''We took analog, converted it into digital, through my skills and the skills of many designers, and came up with a seven-motor design that basically beats any of its rivals by up to five times in price.''
Posted by tshey at 11:54 AM
Eigenradio: A Singular Christmas
[MIT's Eigenradio, blogged here and on Rhizome last year, is now offering some of their "statistically optimal" music for the Christmas season:]
This season, as a present to friends worldwide, our system listened to as much Christmas music as it could handle. When it was done it synthesized these sixteen new timeless classics.
Posted by tshey at 11:20 AM
Modern Pooch has launched!
Dear Online Family,
It is with great pleasure and a heart thumping with pride, that Sparky and I announce the launch of ModernPooch.com, where the dog obsessed can get their daily fix of cute pics, funny stories and useful tips.
So everyday when you feel that familiar ache for the pooch...you now know where to look - ModernPooch.com!
Sincerely,
Sparky & Andrea Harner
P.S. This site will keep on truckin' with everything but dogs.

Posted by tshey at 11:10 AM
November 25, 2004
Feel The Magic XY/XX
Sega has never been one to shy away from a little experimental gaming, even when heavy petting is involved. Welcome to Feel The Magic: XY/XX. Like many genre-free games, Feel The Magic is accessible to any and all, as the gameplay is limited to intuitive minigames that show off the touching capabilities of the DS. The story itself goes hand in hand with the theme, that is, it s a touching tale of two people falling in love trust us, it will draw you in

However, as is the case in real life, the story often ends too quickly, and there s not much incentive to feel the magic all over again, and again, and again. But Feel The Magic is a game that shouldn t be missed, featuring some beautiful stripped-down visuals to go with its touching love story. We would suggest hanging on to the title to show off to your friends, or better yet, lend it to your DS-owning pals who ve overdosed on Mario. So if you re hunting for a unique, little gem for your new DS go ahead and Feel The Magic, and don t forget to spread the love. Pass it on.
Posted by tshey at 09:32 AM
Pop art nouveau robot romance manga
Writing text for blog entries is hard work and I'm sleepy. What needs to be said about Yumiko Kayukawa's delicious pop manga art, beyond what you see here? Shown: Cat Robbot [sic] (
Nekogata Robotto
). Awesome.
Link
(
Thanks, Mark Hurst).
Update: BoingBoing reader Shane adds, "We recently interviewed Yumiko on our site Crown Dozen, and she's super-sweet." Link to interview.
Posted by tshey at 09:27 AM
Female Pedestrian Crossing Figures
From And Far Away... via the BBC's Day in Pictures feature.
"Pedestrian crossing signals featuring female, rather than male, figures, are launched in Zwickau in Germany on a three-month trial".
See previous post on wonderful "rocker crosswalk signs" installed at both ends of a night club in New York: Rock Version of WALK / NO WALK.
Posted by tshey at 09:11 AM
Books to your mobile via WINKsite
Mobile media technology developer WINKsite has launched the Creative Commons Library for mobile users. The Library puts a variety of CC-licensed texts two clicks away from browser-enabled mobile devices.
Mobile books, or "WINKbooks" are texts designed to be read on a web-enabled mobile phone.
a concept still in its relative infancy - partly due to the technology barrier that needs to be overcome by many prospective users. The idea that paper and ink should be forsaken for mobile phones is enough to make readers give an almost Luddite shudder. How can any mobile device approach the ergonomics and durability of a good quality book or reading the text on a PC or notebook? Who will read a book on a phone? Replacement however, is not the point. It's all about distribution.
You see, there is a revolution going on all over the world. People from Japan to India to Europe to the United States and South America are engaging content on mobile devices in record numbers - in fact mobile access to the Internet has already surpassed desktop access. For tens of millions their mobile phone is their one and only pipeline onto the Internet, to knowledge it contains, and to each other. Their entire "connected" world is what they can publish and consume directly on their phone. Let's connect everyone to all the great content and thoughts bouncing around the Internet. Don't leave anyone out or behind or without a voice.
Thanks to Dave for the heads-up!
Posted by tshey at 03:09 AM
November 24, 2004
thirty
Well, I'm as surprised as anyone, but damned if I didn't make it to thirty today. And with my twenties behind me, I have a lot to look back and be thankful for, so tonight we're just going to enjoy it. We're in NY right now, a stop on the way to stately Shey manor for thanksgiving, and if anyone wants to help celebrate with a drink, Rachel and I will be hanging out with good friends at a mostly Cuban/Brazilian/Mexican place called Esperanto on Ave C late tonight. Can't think of a better way to start another ten spins around the sun, if I should be so lucky. Happy thanksgiving, everybody.
Posted by tshey at 06:51 PM
Bioweapons (or bad sushi) damage politician's face
Anonymous sez: "Check out the pictures -- before & after -- of Viktor Yushchenko's face. He came down with a mysterious illness' (reportedly toxins from biological weapons, his detractors say he ate bad sushi) a couple of months ago. Doctors in Austria who treated him are under police protection. Meanwhile Ukrainians are out protesting in the streets against his political opponents, who are accused of winning the election fraudulently. Truth is stranger than -- a fictional cold war spy novel."
Link
Posted by tshey at 06:23 PM
Eco sketch [Flickr]
blackbeltjones posted a photo:
Somehow I make Umberto look more like a lunatic Captain Birdseye during a planning meeting..
Posted by tshey at 12:58 PM
Some iPod Fans Dump PCs For Macs
dereklam writes "The popularity of the iPod could be boosting Macs' popularity as well. News.com reports that 6 percent of iPod users have made the switch from PCs to Macs. An additional 7 percent said they are planning to dump their old PC for an Apple machine, according to the survey." I wish the linked story had more details; it's not clear from the results mentioned whether there's a strong causal relationship here.
Posted by tshey at 12:52 PM
SpongeBob Kidnappers Seek Ransom for Doll (AP)
AP - Have you seen this sponge? Police are looking for a blow-up figure of SpongeBob SquarePants swiped from a Minnesota Burger King. They've found a ransom note which starts off: "We have SpongeBob." It then demands, "Give us ten Crabby Patties, fries and milkshakes."
[How much do you want to bet this is a stunt by BK ad agency CPB? Note in the article, the ransom notes are signed by Plankton. -- tim]
Posted by tshey at 12:51 PM
November 23, 2004
Man, Now That's Capitalism
Posted by tshey at 03:55 PM
T9 Predicts Euro Speak
This is fabulous! Predictive text, T9, in it's latest version allows for Euro speak. Mixing languages in the same sentence. [via
160characters.org
].
Posted by tshey at 03:53 PM
Dollar Watch Compilation Thread, or, How a Dollar Crisis Might Be Used to Dismantle Our Social Safety Net
The Agonist - If Asian Central Bankers stop funding our deficits the United States Government will then have a choice to make: choose between funding our military-industrial establishment or shoring up our social safety net.
Update: A reader writes in to tell me that this is the exact same scenario that Krugman outlines in his book, The Great Unraveling.
Update 2: Kevin Drum has some thoughts on how Bush will change Social Security. They're somewhat germane and worth a read. Still, no one is talking about how a dollar crisis might lead up to a change in Social Security. But we'll keep watching.
Update 3: Morgan Stanley's Roach says 1 in 10 chance we will avoid economic "Armageddon."
More after the jump.
Posted by tshey at 03:37 PM
Economic "armageddon" coming to a world near you
Mark Frauenfelder
: The chief economist at Morgan Stanley is 90% certain that the US economy is headed for disaster.
To finance its current account deficit with the rest of the world, he said, America has to import $2.6 billion in cash. Every working day.

That is an amazing 80 percent of the entire world's net savings.

Sustainable? Hardly.

Meanwhile, he notes that household debt is at record levels.

Twenty years ago the total debt of U.S. households was equal to half the size of the economy.

Today the figure is 85 percent.

Nearly half of new mortgage borrowing is at flexible interest rates, leaving borrowers much more vulnerable to rate hikes.

Americans are already spending a record share of disposable income paying their interest bills. And interest rates haven't even risen much yet.
Posted by tshey at 03:29 PM
Sid Meier has some pirates on your tail
Pirates are sailing your way. The dreaded Sid Meier s Pirates, to boot. They re one bad gang of snarky punks. The game has gone gold, and will be in stores imminently. The remake of the classic Commodore 64 game has bee a favorite of old-timers for years. Hopefully the upgrade will impress all of you young uns as well. How could you be dissatisfied with playing a 17th century buccaneer, with woman and treasure over every horizon? The PC version is up first, but expect an Xbox love child in the spring. Looking forward to this one.
This was a favorite of mine growing up... fun! --ts
Posted by tshey at 03:28 PM
Spidey in Geneva
From our friend
Ckoe
in Holland: "I recently went for a very short weekend in Geneva some time ago and came across the best piece (placement) ever.. Can't say too much about this picture besides that this is most likely my all time fav."
Posted by tshey at 09:20 AM
Nintendo DS Changes the Rules of the Game
With Nintendo DS, dual screens and touch-screen technology allow you to interact with games like never before. Wireless communication allows you to experience real-time multiplayer gameplay, while built-in PictoChat software gives you the power to draw, write and send messages wirelessly. Nintendo DS revolutionizes the way games are played.
There's a nice write-up in USA today.
So, what's the big deal? Another handheld kids game out in time for the holidays. True enough, but this one is special. First of all, its street price is around $150 and, for what this is, it's amazing. Dual screen (one of them touch-screen) and wireless. Just how cheap can this stuff actually get? If you believe the guys from Intel - there is no downward limit. We're going to see much more handheld technology and as the feature sets grow, it is going to change the way we live. Wi-Fi, Wi-Max and RFID alone have the capacity for monumental change - add some computing horse-power and it's a new ball game. When we look back on the early days of the transition ... this class of "toy" will be considered a tipping point.
Posted by tshey at 09:19 AM
Queremos el niño robotico
Mom, you can stop asking when we'll have a baby - meet your new grandson. We promise to give him only the best programming and technical support...
Posted by tshey at 01:34 AM
reBlog 1.0 Launched!
Eyebeam R&D has teamed up with the UI wizards at Stamen Design to release reBlog 1.0. Check it out at www.reblog.org. It more fun and easier to install and use than ever.

Most notable is the new super-sexy online RSS/Atom Aggregator/Reader called reFeed (demo reFeed here).

We've also improved the Movable Type plugin to import del.icio.us-style categories from reFeed, and added a plugin for WordPress. And if you're a reBlog beta user, we tried as hard as we could to smooth the upgrade paths, and we think you'll appreciate the effort.

If you're into blogs, feeds, personal publishing, and/or syndication, we think it's worth your time to check out www.reblog.org and reFeed, and maybe even install and try using the software.
Posted by tshey at 01:32 AM
Amazon Japan Cell Phone Fancypants Service
Keitai Watch reports that as part of a renewal of their site, Amazon Japan has introduced a flattering new feature called "Amazon Scan Search." After users download an application to their cell phone free of charge, they can scan barcodes of ordinary products, which in turn enables them to search the cell phone version of Amazon.co.jp for the respective product. Once they get a result on their search, they can then choose to purchase the item right from their phone. Obviously, there's quite a bit of overhead associated with this like needing a phone with a camera, needing to use i-Mode, and needing to, you know, be in Japan but I'm willing to ignore that for now.
Amazon Japan of course intends the service be used for on-the-spot price comparisons, as well as "finding out what sort of products are sold should you want something that your friend has." I'd say I await Amazon in America to introduce a similar service, but I will probably be waiting for all eternity.
Amazon Mobile [Amazon.co.jp via Keitai Watch]
Posted by tshey at 01:31 AM
November 22, 2004
ULTRA Hanami...coming soon!
Imagine enjoying sushi, sake and Japanese music while sitting under a cherry blossom canopy with falling digitally cultivated petals...
Having grown up in Japan I often miss and long for my hanami (cherry blossom viewing) memories so I've created an EYEBEAM Artists in Residence Benefit that features the cherry blossom footage I shot in the spring at the Brooklyn Botanic Gardens with some computer graphics magic created in EYEBEAM's Moving Image Studios!
If you're in the New York area, please join us for what I promise will be a super fun and memorable evening!
Seating is limited to 100 so please purchase tickets soon.
And don't forget your party pants, party shoes and party 'tude!
>
Posted by tshey at 10:03 AM
Putting a price on product placement
Since media buyers and sellers love to live by the numbers, a host of companies are coming up with
formulas
for figuring how much to charge for product placement on TV. Among the factors: screen time, character use of product, awareness and recall, and its business function. (WSJ sub. req.)
Posted by tshey at 10:00 AM
Blog Yourself Blue
Has the weblog become the best example of cyber studio? In today's cultural/economic climate blogging offers artists an overhead-free space to create, disseminate and generate dialogue around their work. Rhizome's own Director of Technology Francis Hwang wants to address this new phenomenon, so he's assembled a panel of four net art experts to talk--not blog--about it. Kabir Carter, creator of the sound-based Walking in the City joins photoblogger David F. Gallagher, arts critic Tom Moody and net artist t.whid of MTAA for 'Blogging and the Arts,' a discussion that will 'address questions such as whether blogs will change the nature of discourse in the fine arts field, and ways that artists and critics are integrating this new form of communications into their own work.' The event is sponsored by Pub Sub Concepts Inc. and takes place at the New Museum of Contemporary Art on Tuesday, November 23, from 6:00-8:30 p.m. Real people, real place, real time. - Peggy MacKinnon
http://rhizome.org/events/blogging_and_the_arts/
Posted by tshey at 09:57 AM
November 21, 2004
karatechimp
i dont even know.
Posted by tshey at 02:18 AM
History of SMS, Early Wireless Communications
The 100th anniversary issue of a an English language Norwegian journal called Telektronikk has some fascinating articles on the development of GSM and mobile communication, including a history of SMS. H ken Lie (one of the fellows that developed the Opera browser) writes about the development of Mosaic, historical articles describe one of the earliest wireless radio systems in the world -- designed to communicate with the Norwegian Cod fleet.
(Thanks, Rich!)
Transferring Telektronikk onto the Web was not a straightforward task in 1993. The Mosaic browser had been released just months earlier, and procedures for preparing documents for the Web were not established. The problems experienced from this early work were directly used to propose better methods in CERN s Web project. Since then, the Web has firmly established itself as the electronic publishing platform of choice, and we should expect that the web version of Telektronikk s Cyberspace edition from 1993 also will be readable in 2043.
Posted by tshey at 02:06 AM
November 19, 2004
Pop-Ups from Fruhstuck
Fr hst ck's characters are some of our favorites. Above: from the "Pop-Up Festival" in Groningen together with s.m.a.c.
Posted by tshey at 11:58 PM
Cultural Mash-up Goes Global
The Kleptones, Lenlow, Go Home Productions, McSleazy, Miss Frenchie, Loo & Placido are all names that you may not be familiar with and certainly not found in your local Virgin Megastore but these purveyors of the musical mash-up (or in some circles bastard pop) are finding their way into ipods around the globe. Although these artists are testing the boundaries of copyright law, they are certainly cultural WorldChangers.
These DJs are moving on from just mashing up the odd single or public official and reworking full albums. After the much sought after Grey Album by DJ DangerMouse, who mixed the Beatles White Album with the Jay-Z Black Album, there is a new crop of ascenders to the throne. Some of the best 'albums' out there right now include A night at the Hip Hopera (Queen), Parkspliced (Blur), London Booted (The Clash), Yoshimi Tackles The Hip Hop Robots (Flaming Lips) and The Pwodigy (The Prodigy).
Even more intriguing, these artists are venturing into the social arena by becoming modern day 'robin hoods' by asking listeners to donate to charities if they download mash-up tunes. War Child, Cancer Research UK and the Christopher Reeve Foundation have all ended up being recipients of these masters creativity.
This musical art is now on the verge of going mainstream as MTV Europe (sorry America) has MTVMash and artists like David Bowie, David Byrne, Gilberto Gil and the Beastie Boys (through the Wired/Creative Commons CD) are all encouraging mash-up artists to remix their work. Folks are even asking to take it one step further and mash the planet - although others are weary of culture jamming. Some of the best hip-hop is coming out of Southern Africa right now, could we be seeing some global/cultural mash-ups in the not too distant future?
Some of the most prolific artists are based in Europe however here in the states make your way to San Francisco for Bootie or Mash Ave in Boston to see new kings (and queens) of the turntable. If you feel like learning to mix I recommend spending the weekend in the "get your bootleg on" message boards.
Ok, I'm off to stick 'Sweet Child O' Ravi' on the itunes...
(Posted by Cameron Sinclair in Global Culture Art, Music, Fashion, and Travel at 09:59 AM)
Posted by tshey at 11:41 PM
the unmediatedmobile.
Once a week, most of the unmediated crew gets together for beer, pizza, and lots of media talk. Lately, our sh!t sessions have been rare, with everyone being quite busy as of late, but on Wednesday, a bunch of us met up at D.B.A. to catch up and work on ideas for open sourcing the unmediated Weekly Show. The best moments come when we've got a few beers in us and we start blabbing about whatever's on our minds.
This week, Eli came up with a good one: the unmediated car.


File this one under "patentable ideas dreamed up under the influence of winter ale."
Posted by tshey at 11:36 PM
Epson's Electronic Ink + RFID = 21st Century Price Tags
A new technology from Epson combines electronic paper with RFID tags to display the prices of products at stores. According to Nikkei Electronics, Epson has presented the technology at the "Embedded Technology 2004" convention, going on since the 17th.
Clearly intended for storefronts, the small displays can show 8 bytes of character data. Through a combination of RFID and some new fancy electronic paper technology, Epson supposes the displays would be used to easily change the prices of products; "this would drastically reduce the personnel expenses required for changing prices at a store," says a representative.
So what the hell does Epson have to do with electronic paper? Glad you asked the company's inkjet printing technology enabled them to join the wireless tag IC with a flexible substrate. While conventional methods (wire bonding) would allegedly require some 50 nanometers, inkjet printing technology requires a mere 5 nanometers. That would be a helluva paper cut.
ET2004: Epson, new display combines wireless tag and electronic paper [Nikkei Electronics]
Posted by tshey at 11:34 PM
Flybar
Buy yer Flybar, a gravity-defying and common-sense challenging super-jumpy-stick-thing, before they are outlawed in your community. Spotted in Popular Science's Top 100 Tech Innovation of 2004 (website seems error-ridden and may not be as complete as print version of mag)
Posted by tshey at 06:27 PM
Miss World... You Decide
A potential audience of two billion people will be able to vote for Miss World this year, reports Ireland Online. Viewers will be able to vote through their televisions or by phone, text messaging and email....
Posted by tshey at 01:45 PM
Bush twins try to get a table at a NYC restaurant, maitre 'd tells them the restaurant is full for the next four years
Entire restaurant cheers, does shots.
Posted by tshey at 01:32 PM
Wong Kar Wai's Days of Being Wild
Though the wait for the new Wong Kar Wai 2046 may seem interminable to his fans like Gothamist, to tide us over Kino has rereleased a new 35 mm print of one of his earlier works, Days of Being Wild. Screening at the Film Forum for the next week, this is a must-see Hong Kong classic, which won 5 HK Film Awards on it's original release in 1991.
Leslie Cheung plays the womanizing cad, Yuddy, who seduces the delectible Maggie Cheung while she works in a snack shop and then when their affair is over never looks back. She finds some solace from Andy Lau's cop character, Tide, though they never seem to be able to connect either. Plus, there's the singer, Leung Fung-Ying (Carina Lau) who thinks Yuddy might be the marrying kind. Silly girl. In Wong's work, the more unhappy the panoply of characters, the better the mood he can evoke with Christopher Doyle's superb cinematography and his characters' enigmatic voice-overs. This is the best kind of art cinema -- it touches you with its imagery and feeling that you wouldn't expect from just going to the movies.
See the trailer for the film or think about buying the Wong Kar Wai DVD box set for every cinephile on your holiday present list. Also, if you have some free time and are a bit of an obsessive WKW fan, the 2046 website is a gorgeous piece of flash-tastic design. Though, we still have no idea what it's going to be about, it looks spectacular.
Posted by tshey at 01:31 PM
Public gets chance to text Tony Blair
UK Prime Minister Tony Blair will be answering questions from the public via a mobile phone chatroom session hosted by O2, reports Netimperative.
The 45-minute session will be transmitted live from No.10 Downing Street on Thursday 25th November, at 1pm."
ailable to any mobile user, who can text the letters PM and then their question to 80202. Alternatively, they can join the chat by going to O2 Active on the day. Questions can be submitted in advance by SMS, photo messaging or WAP.
A full transcript of the interview will be available on the internet when the session is over.

Posted by tshey at 01:29 PM
Rocking And Hip-Hopping With NYC Pizza
Oh, Slice, how we love thee: Not only does the
best pizza weblog
ever dissect the important
cameo of Joe's on Bleecker on Wednesday's Law & Order
(there's nothing that says "quality pizza" like mob guy getting a slice right before being gunned down), Slice has been keeping tabs on the pizza habits of music artists. Slice
looked at
Ted Leo
's "Me & Mia": video, which was filmed at World Famous Ray's (the one at 595 Sixth Avenue). But the pizza parlor becames a true narrative force in Queens native
LL Cool J
's video, "Hush,"
as Slice details
:
The concept of the video is "then and now," with flashbacks to the eighties in which we see a young LL (played by his son Najee) courting his future wife, Simone. Young LL takes her to a pizzeria on the back of his bike, where dinner consists of one slice cut in half this is James Tood Smith pre-bling. Even though he may have skimped on the slice, he delivers the ice, presenting his girl with a modest necklace after dinner, outside the pizzeria, where a sign can be seen advertising slices for $0.75.
This was filmed at the
Coliseum Mall in Queens
, because LL wanted to show his fans that if he could make it, anyone could. NYC pizza, inspiration, six pack abs, what more could you ask for?
Posted by tshey at 01:27 PM
President Bush's Kissing Cabinet (washingtonpost.com)
"President Bush has given female nominees such as Condoleezza Rice, above, and Margaret Spellings
congratulatory kisses
, but has given male nominees such as Alberto Gonzales a handshake and a pat on the back." (Photo: Pablo Martinez Monsivais -- AP)
Posted by tshey at 10:08 AM
Bush and Condi Rice in Love
It's official and on the front page of the New York Times today...Bush & Condi are in love.
Supposedly they're all lovey eyes while the rest of the administration rolls their eyes.
Condoleezza Rice with President Bush at the White House on Tuesday when he announced that she was his choice to succeed Colin L. Powell as secretary of state. Questions abound as to her policy orientation.
Posted by tshey at 03:40 AM
Sex and the iPod
Last night a friend and I were at the bar of a popular Las Vegas nightclub called rumjungle. We were sitting next to a trio of attractive, cosmopolitan young ladies, who were in the process of being chatted up by a trio of eager young men. At one point, my ears pricked up, because the topic of their conversation had turned to the iPod. The girls all professed their deep love for Apple's chic music player, and everyone took turns enthusing about their devices' respective song counts. Meanwhile, on the screens above the bar and dance floor, some familiar looking psychedelic computer graphics were pulsating. If that left any doubt as to which popular jukebox application was providing the evening's soundtrack, a white Apple logo soon materialized to dispell them.
To say that Apple has gained some mindshare in the music business lately would, I think, be a severe understatement.
Interestingly, there was even a ray of hope for those of us who work on Apple's less sexy, non-music products: one of the girls went one step further and proudly announced that she had gone "all Mac for everything," which struck me as a pretty geeky topic of conversation for the mating ritual (at least outside of Silicon Valley). Could it actually be possible that "Hey baby, I work on Mac OS X" is about to become an effective pickup line? One can dream...
Posted by tshey at 03:31 AM
CANstruction
Nothing new, but I can't resist deap sea creatures.
A canstruction is a sculpturelike installations with unopened cans of food built by teams from architectural and engineering firms for an annual charity competition. Over 40 CANpetitions are organized each year in the US.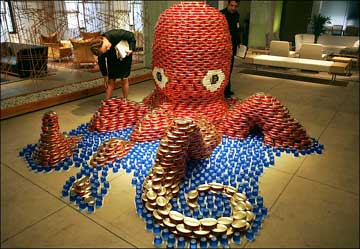 "The tuna can is the ideal can to build with," said Mr. Johnson, one of the builders, because tuna cans can lock into each other almost like Lego pieces.
The canned food will be given to the Food Bank for New York City when the installations are dismantled on the day before Thanksgiving.
Till November 24 at the New York Design Center on Lexington Avenue at 32nd Street.
Via The New York Times and Live Journal.
Posted by tshey at 03:31 AM
Whoops and apologies
In testing out some new upgrades to the site, I inadvertently managed to badly damage my content database, and then found that there was a problem with my backup files as well. Long story short, couldn't publish for a few days, and little things - like the rss feed - won't be back to normal until tomorrow at least as I go through the process of restoring from backups. Hope no one is too heartbroken over it.
The upgrades will be cool, though. You won't notice much, except that I'll be able to do much more reblogging, and categorize posts - including rss feeds by category, if you're just interested, let's say, in the mobile reblogging and could use less politics. More to come soon.
Posted by tshey at 03:18 AM
Bush and Blair accused of mangling English (Reuters)
Reuters - The English language is being destroyed by a "deadly virus of management speak" which has infected the mouths and minds of politicians like Tony Blair and George W. Bush, a leading journalist says.
Posted by tshey at 02:52 AM
DVD to Mobile
DVD TO MOBILE (Nokia Edition)
Now you can convert your DVDs to your Nokia, Siemens and other brand mobile phone and watch them in great quality, with excellent sound and in full screen landscape mode*. A memorycard as small as 128 Mb is sufficient to store a full length feature film, up to a hundred minutes. Take your DVDs on the plane, train or automobile, watch them on vacation, at work or at school. With only two clicks, this PC software converts the content of your DVD to a super small movie file, which will play on any Symbian Series 60 device, such as Nokia 6600/7610/6630/6260, Siemens SX-1, Sendo X, etc. on a postage stamp size memory card. You can use a headset or the built-in speaker to listen to the sound. Subtitled and foreign language DVDs are also supported. You wil have to see the quality to believe it, using supreme MPEG4 encoding, feature films look crisp and sharp on your cellular phone and still fit on a relatively small multimediacard.
Via
Bernhard's del.icio.us
i am so trying this. -- ts
Posted by tshey at 02:52 AM
Music, meet your new distribution method (IndieFeed)
Looking to get into listening to podcasting but aren't so much interested in spoken word works? Well, then IndieFeed is for you. Set yourself up with iPodder and iTunes if you haven't already, grab some feeds, and knock yourself out. Your feeds will regularly download with mp3s of independent artists from a variety of genres, with more on the way. The best part is that you can "suggest" additional independent artists that would benefit from the promotion on IndieFeed.
(Continued at The Media Drop)
Posted by tshey at 02:51 AM
b-tang :: metalsmithing + jewelry : Fashion
Beverly Tang, one of my favorite
blog
gers, has just released her
jewelry line
... and it looks really hot. Stock up on xmas gifts before it sells out!
Posted by tshey at 02:51 AM
Thanks Max, here comes Beth
Max did a great job reBlogging for the last two weeks, helping to debug the new version of reBlogging software that we're shortly to release (1.0 baby!)
And up next is Beth Rosenberg, Eyebeam's director of Publications. She has helped coordinate the Distributed Creativity forum and the production of the book re:Play, and is hard at work on the forthcoming Eyebeam Journal.
Posted by tshey at 02:33 AM
The Bloggers Should Be TIME's People of the Year
Each year around this time going all the way back to 1927 the editors of TIME magazine sit down to debate and select their Person or People of the Year. Last year, if you recall, they selected the American soldier. In prior years they have selected everyone from Charles Lindbergh (1927) to The Computer (1982), Andy Grove (1997), Jeff Bezos (1999), George W. Bush (2000), Rudy Giuliani (2001), the Whistle Blowers (2002) and many more luminaries.

The Person of the Year is defined as folllows:
"Person of the Year is an annual issue of TIME magazine that features a profile on the man, woman, couple, group, idea, place, or machine that "for better or worse, has most influenced events in the preceding year"

For 2004, I cannot think of a single person or persons that had a greater influence on society than the bloggers. Let's remind them by making our voice heard. If you think about American politics, media, business - no one, no one had a greater influence for better or worse than the bloggers. Not Osama Bin Laden. Not Sadaam Hussein. Not John Kerry. No one. The bloggers absolutely deserve to be this year's People of the Year.

(Continued at Micro Persuasion)
Posted by tshey at 02:33 AM
Hitachi's Fuel Cell Video Player

Soroban Geeks has pictures of this fuel-cell powered portable video player from Hitachi. It uses the iVD-R cartridges for data storage (and features 'A' and 'B' button technology), so even if it were more than a prototype we wouldn't buy it. But it's nifty to get a look at what fuel cell devices might look like and how easily integrated into hardware they might be.
Lecteur Vid o Fuel Cell [SorobanGeeks]
Posted by tshey at 02:33 AM
'Music Is Not a Loaf of Bread'
When Wilco released Yankee Hotel Foxtrot online for free in 2001, the album's popularity soared and Wilco became a commercial success. Front man Jeff Tweedy tells Wired News' Xeni Jardin why the music industry is dead wrong about file sharing.
Posted by tshey at 02:33 AM
Chernobyl: The Next Generation
Mara D. Bellaby | Svetilovichi, Belarus | November 13 AP - The signs say "KEEP OUT" and warn of radiation contamination, but the mushroom-pickers trudge right past them carrying their pails. Eighteen years after the reactor at Chernobyl in neighboring Ukraine exploded, spewing a cloud of radiation that blew north and contaminated 22 percent of this ex-Soviet republic, activists warn of a new threat facing Belarusians: the longing to return to normal life.
Posted by tshey at 02:32 AM
Animation made from graffiti stencils all over town
Cory Doctorow
: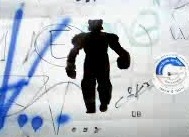 An artist created a small animation of a robot walking, then rendered each frame as a stencil. Then s/he went around town and sprayed the stencil on walls, lamp-posts, etc, and photographed each one. When all the photos are played back in sequence, it creates the animation, but with a wildly flickering background of cityscapes that is absolutely wonderful to behold.
Link
(
via Plastic Bag
)
Posted by tshey at 02:32 AM
Fox TV on 3G - I want my PhoneTV
Someone has to be first. That's just the way it is. CNN.com has the details of the new Fox "24" mobisodes (mobile episodes) for 3G cell phones. This is important, trust me. While the slashdot.org crowd is busy shouting this down, those of us who know what business Fox is in are going to watch this experiment very, very carefully.
No, this is not the way TV will look in the future. No, this is not an emotionally satisfying experience. No, this is not the final form of the technology.
Yes, this is a new form of communication. Yes, this is a new way to distribute content. Yes, there will be video content ubiquitously distributed to personal electronic devices. Yes, the system will be bi-directional. Yes, this is a good idea who's time has come!
We are going to learn a great deal from Fox's efforts. They have taken a first step towards understanding and exploiting the new world of mass personalization. There is no doubt that relevant content presented when you want, where you want it is an axiom of current technology. If you want to look at one probable future of communication, look to the future thinkers at Fox!
Posted by tshey at 02:32 AM
Girl found inside pinata
Mark Frauenfelder
: Border officers inspection a car coming into the US from Mexico discovered a little girl stuffed into a Powerpuff Girls knockoff pinata.
"Officers began to take the piñatas out of the back seat, and one [of the several pinatas in the car] seemed to be much heavier than the others," said Vince Bond, a spokesman for U.S. Customs & Border Protection. "This one had a little girl of approximately 4 or 5 years of age inside it."

The girl's mother also was found, curled up inside the car's trunk, and the girl's brother, who is about 9 years old, was found underneath the collapsible back seat.
/www.signonsandiego.com/news/metro/20041112-9999-7m12pinata.html">Link
Posted by tshey at 02:32 AM
Tom Coates as Tetsuo from Akira
blackbeltjones posted a photo:
Swept hair!
Posted by tshey at 02:31 AM
November 16, 2004
'Music Is Not a Loaf of Bread'
When Wilco released Yankee Hotel Foxtrot online for free in 2001, the album's popularity soared and Wilco became a commercial success. Front man Jeff Tweedy tells Wired News' Xeni Jardin why the music industry is dead wrong about file sharing.
Posted by tshey at 04:17 PM
Hitachi's Fuel Cell Video Player

Soroban Geeks has pictures of this fuel-cell powered portable video player from Hitachi. It uses the iVD-R cartridges for data storage (and features 'A' and 'B' button technology), so even if it were more than a prototype we wouldn't buy it. But it's nifty to get a look at what fuel cell devices might look like and how easily integrated into hardware they might be.
Lecteur Vid o Fuel Cell [SorobanGeeks]
Posted by tshey at 04:05 PM
Bush and Blair accused of mangling English (Reuters)
Reuters - The English language is being destroyed by a "deadly virus of management speak" which has infected the mouths and minds of politicians like Tony Blair and George W. Bush, a leading journalist says.
Posted by tshey at 04:04 PM
November 15, 2004
The Bloggers Should Be TIME's People of the Year
Each year around this time going all the way back to 1927 the editors of TIME magazine sit down to debate and select their Person or People of the Year. Last year, if you recall, they selected the American soldier. In prior years they have selected everyone from Charles Lindbergh (1927) to The Computer (1982), Andy Grove (1997), Jeff Bezos (1999), George W. Bush (2000), Rudy Giuliani (2001), the Whistle Blowers (2002) and many more luminaries.

The Person of the Year is defined as folllows:
"Person of the Year is an annual issue of TIME magazine that features a profile on the man, woman, couple, group, idea, place, or machine that "for better or worse, has most influenced events in the preceding year"

For 2004, I cannot think of a single person or persons that had a greater influence on society than the bloggers. Let's remind them by making our voice heard. If you think about American politics, media, business - no one, no one had a greater influence for better or worse than the bloggers. Not Osama Bin Laden. Not Sadaam Hussein. Not John Kerry. No one. The bloggers absolutely deserve to be this year's People of the Year.

(Continued at Micro Persuasion)
Posted by tshey at 06:12 PM
DVD to Mobile
DVD TO MOBILE (Nokia Edition)
Now you can convert your DVDs to your Nokia, Siemens and other brand mobile phone and watch them in great quality, with excellent sound and in full screen landscape mode*. A memorycard as small as 128 Mb is sufficient to store a full length feature film, up to a hundred minutes. Take your DVDs on the plane, train or automobile, watch them on vacation, at work or at school. With only two clicks, this PC software converts the content of your DVD to a super small movie file, which will play on any Symbian Series 60 device, such as Nokia 6600/7610/6630/6260, Siemens SX-1, Sendo X, etc. on a postage stamp size memory card. You can use a headset or the built-in speaker to listen to the sound. Subtitled and foreign language DVDs are also supported. You wil have to see the quality to believe it, using supreme MPEG4 encoding, feature films look crisp and sharp on your cellular phone and still fit on a relatively small multimediacard.
Via
Bernhard's del.icio.us
i am so trying this. -- ts
Posted by tshey at 06:12 PM
Music, meet your new distribution method (IndieFeed)
Looking to get into listening to podcasting but aren't so much interested in spoken word works? Well, then IndieFeed is for you. Set yourself up with iPodder and iTunes if you haven't already, grab some feeds, and knock yourself out. Your feeds will regularly download with mp3s of independent artists from a variety of genres, with more on the way. The best part is that you can "suggest" additional independent artists that would benefit from the promotion on IndieFeed.
(Continued at The Media Drop)
Posted by tshey at 06:10 PM
b-tang :: metalsmithing + jewelry : Fashion
Beverly Tang, one of my favorite
blog
gers, has just released her
jewelry line
... and it looks really hot. Stock up on xmas gifts before it sells out!
Posted by tshey at 05:59 PM
Thanks Max, here comes Beth
Max did a great job reBlogging for the last two weeks, helping to debug the new version of reBlogging software that we're shortly to release (1.0 baby!)
And up next is Beth Rosenberg, Eyebeam's director of Publications. She has helped coordinate the Distributed Creativity forum and the production of the book re:Play, and is hard at work on the forthcoming Eyebeam Journal.
Posted by tshey at 05:56 PM
November 13, 2004
The Uncanny Valley, or why POLAR EXPRESS is so creepy
The holiday movie race is ON! with
THE INCREDIBLES
opening last Friday and
THE POLAR EXPRESS
opening today. Both are CGI films supposedly aimed at the kiddlies. But one is a marvelous romp, the other, frankly, scares the shit out of
The Beat
. While the POLAR EXPRESS trailer is supposed to fill tots with joyful feelings of glee and awe and meeting Santa, the actual result of these not-quite-humans is more likely to be a deep sense of insecurity and fear. Take it from
The Beat
: the beds of American children are going to be soaked with anxiety pee after watching a creepy digital
Tom Hanks
shout "All aboard!!!" and wave his arms for a couple of hours. (The film was made with extensive mocap technology...essentially Gollum gone horribly wrong.)
Why is this? Well, it turns out there's a whole theory to explain the effect of not-quite-humans on quite human psyches. It's called "The Uncanny Valley" theory:
Japanese roboticist Doctor Masahiro Mori is not exactly a household name -- but, for the speculative fiction community at least, he could prove to be an important one. The reason why can be summed up in a simple, strangely elegant phrase that translates into English as "the uncanny valley."
Though originally intended to provide an insight into human psychological reaction to robotic design, the concept expressed by this phrase is equally applicable to interactions with nearly any nonhuman entity. Stated simply, the idea is that if one were to plot emotional response against similarity to human appearance and movement, the curve is not a sure, steady upward trend. Instead, there is a peak shortly before one reaches a completely human "look" . . . but then a deep chasm plunges below neutrality into a strongly negative response before rebounding to a second peak where resemblance to humanity is complete.
Blogger Robot Johnny explores this a bit vis a vis THE INCREDIBLES (and provides the chart which The Beat has stolen). Musician Momus has also written a fascinating look at the phenomenon in terms of Pixar and robots and so on. Well worth a click.
Anyway, without getting too deep, this explains why you want to give Ichabod Crane, Bob Parr and C-3PO a hug, but when you see THE POLAR EXPRESS coming at you, you just want to run away screaming. The Beat wants nothing to do with these children of the digital damned! This is supposed to be lovable? They should have just given in and made a movie called "Nyarlathotep, The Crawling Horror"starring Tom Hanks instead.
Posted by tshey at 12:37 PM
SMS Guerilla Projector

The SMS Guerilla Projector is a high powered, home made projection device that can be used to project SMS messages on to buildings, signs or any other surface. Made by Troika, the London based collective of designers and artists, it consists of a mobile phone, camera lens and slide projector. Be sure to check out their site for other brilliant work including an electroprobe that reveals the inner song of electronic devices.
Posted by tshey at 12:31 PM
November 12, 2004
The True Story of Audion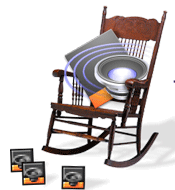 mijkal writes "Panic's Audion music software has been retired and made freely available. The developer has a nice write up on his experiences with Audion in relation to early-MP3 days, failed AOL deals, and the could-have-been iTunes app. It's an inspiring read on the history of a shareware developer and his adventures thus far." (Excerpt:)
When we created Audion, our Mac-only, multipurpose MP3 application, Steven Frank and I had one goal: we wanted to listen to our music CDs on our computers while we worked, and we wanted to it be stylish. We had no indication that MP3s would one day turn the music industry upside down and have it running for cover. We certainly had no idea that something like the iPod would pop up and literally change Apple as a company. And even though we weren't really responsible for any revolutions per se rather, we rode on the revolution-train with many others everything that happened to Audion just fell into place, magically and unexpectedly, like so many beautiful moments in life.
Posted by tshey at 04:16 PM
Firefox 1.0 is Finally Here
After God only knows how long, the final 1.0 build of Firefox is now freely available for Windows, Mac OS X, and Linux. Today also marks the beginning of many marketing efforts on the part of the Spread Firefox community, a full page ad in the NY Times, parties all around the country, and lots of other promotional stuff to come.
And isn't this interesting, after all the chatter about Google adopting Firefox and re-branding a build of it for themselves. This "Firefox Start" page is the default home page for Firefox now when you install 1.0 final, even if you've set your preferences for something else in an earlier build.
Congratulations to everyone involved. Let the games begin.
Posted by tshey at 04:06 PM
November 11, 2004
New AG nominee: White House counsel who called Geneva Conventions "quaint"
White House counsel
Alberto Gonzales
, who once described the Geneva Convention as outdated and "quaint," may soon fill the post left vacant by John Ashcroft this week.
Link
to SF Chronicle article on the new nominee.
Mr. Gonzales effectively endorsed torture in America's "war on terrorism," as detailed in this Newsweek article:
As a means of pre-empting a repeat of 9/11, Bush, along with Defense Secretary Rumsfeld and Attorney General John Ashcroft, signed off on a secret system of detention and interrogation that opened the door to such methods. It was an approach that they adopted to sidestep the historical safeguards of the Geneva Conventions, which protect the rights of detainees and prisoners of war. In doing so, they overrode the objections of Secretary of State Colin Powell and America's top military lawyers -- and they left underlings to sweat the details of what actually happened to prisoners in these lawless places. While no one deliberately authorized outright torture, these techniques entailed a systematic softening up of prisoners through isolation, privations, insults, threats and humiliation -- methods that the Red Cross concluded were "tantamount to torture."
Link
. And the
NY Times
has this series of excerpts from Mr. Gonzales' legal writings:
Link
.
Posted by tshey at 04:52 PM
Ronald McDonald goes pre-op
File under "only in Japan." Attractive womanoid clown sans clownface, pimping a hot hot barely legal sandwich sold in Japanese McDonaldses, or whatever the plural form is. Maybe the new McGrand Tomato would taste good with some
Boo Bee Juice
.
Link to online version of TV commercial, in windows media only. (via)
Posted by tshey at 04:51 PM
It was only a matter of time (LA Times article)
This sounds like something from Weekend Update: "With the state nearly broke, Gov. Arnold Schwarzenegger is touting a money-making idea to help California reopen its Tokyo trade office:
starring in a Japanese commercial
."
Posted by tshey at 04:48 PM
"GOOOAL!" Ringtone
The world's most entertaining soccer announcer Andres Cantor has gone mobile. His famous GOOOAL! call is now available as a downloadable ring tone.
Proteus , a leading creator and developer of mobile entertainment has reached an agreement with Telemundo Network sports personality Andres Cantor to feature his famous GOOOAL! call as a downloadable ring tone for mobile phones.
Proteus will market GOOOAL! through its existing relationships with all wireless carriers in the U.S.
I am thrilled to be working with this new technology, stated Cantor. Soccer is a passion that can't be described in words and when I scream GOOOOOOAL! I know that the joy I feel at that moment is shared by millions around the world. Now everyone will be able to carry that moment of joy with them everywhere they go.
[Press release]
Posted by tshey at 11:08 AM
November 09, 2004
Ad agencies sound alert over the mobile phone generation
In theory, advertising agencies should love mobile telephones. What better way to reach consumers on the go?
In practice, though, advertising industry executives are growing increasingly concerned that the popularity of mobile telephones will only make their jobs harder. Their worries centre on the impact that mobile phone use is having on the social lives of young people. They fear the phones are creating a new, more furtive generation that will be more difficult to reach with traditional advertising. [via the FT \]
"Behind the scenes, ad agencies are furiously studying the habits of the mobile phone generation. The results so far have proved disconcerting as Mr Edwards's company discovered when it asked people in the UK aged between 15 and 24 to go without mobile phones for two weeks and record their experiences.
Several of the young people deprived of their phones found they had to engage in a novel form of social interaction - talking to their friends' parents. It seems that previously they had arranged meetings at other locations, using mobile phones to keep in contact. What for previous generations had been a rite of passage calling on friends at their homes had become an anachronism.
They never go into the house. They never meet the parents, Mr Edwards says. They are empowered by this device to avoid situations they don't like, like meeting a friend's parents.
The fear among advertisers is that they will meet a similar fate and wind up being ignored by the generation that has grown up using mobile phones. The young always have been self-involved, but never quite like this.
The mobile phone is the ultimate expression of an individualistic society, which I think is the thing worrying everyone, says Dan O'Donoghue, strategic planning director for Publicis, the marketing group. We are all becoming so individualistic we have no relation to society.
A study of 1,600 young Europeans this year by Omnicom's BBDO ad agency detected similar tendencies, describing the continent's youth as pursuing what it called a me project .
The study found that young Europeans craved new experiences but distrusted large organisations and national obligations. Only 38 per cent said they would fight for their country."
Posted by tshey at 03:33 PM
Sensory fabrics
London-based company Eleksen has developed a technology that makes it possible to manufacture sensors and switches from textiles, allowing for electronic components to be integrated into clothing. The textile sensors can measure how hard they are pressed and also whether moisture is present. The fabric can also be sewn or washed.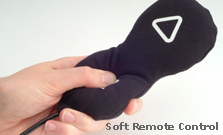 Eleksen already manufactures a soft keyboard , made of a fabric called elektex, for PDAs that can be rolled up and has created controls for an MP3-player on the sleeve of a jacket. Elektex can sense location and pressure, so users can control behaviours like scrolling or repetition by pressing down longer.
Other applications would include a mobile phone that can be folded, or airplane seats with integrated control elements in the upholstery.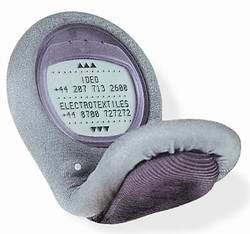 The fabric is a combination of conductive fibers and conventional textile fibers. The tech fabric is essentially a sandwich of conductive textiles with two outer layers separated by a partially conductive inner layer.
The thin sensor layers can withstand enormous strain not even the weight of a car will damage them. Another application might be a doll that can tell whether it's being rocked or patted and sleeps or burps accordingly. Future houses could be filled with sensory fabrics. "For example, you would have carpets that when you walked on them would turn the lights and arm chairs or your favorite cushion with remote controls built into them."
Via PhysOrg and CNN.
See also: soft concepts.
Posted by tshey at 12:34 AM
How Do You Use del.icio.us?
Many of you already know and use del.icio.us, this free social software web service for sharing web bookmarks launched a few months ago by Joshua Schachter, and already mentioned in Del.icio.us Smartmobs.
Here is a quick reminder of what del.icio.us is about. It allows you to bookmark a web page you find interesting, to organize these pages by categories, using tags of your choice, and to share your discoveries with other curious minds. But you can do much more.
When Jon Udell, currently with InfoWorld, published a series of articles about del.icio.us on his blog, this gave me an idea: categorize all the entries posted on my blog in the last thirty months. Instead of using a search engine to check if or when I already wrote about something, I'm now using my del.icio.us archive and I click on a tag. Remarkably fast and useful!
And you, how are you using this service? Have you discovered other tricks easing your online life? Please post your comments below. And many thanks to Joshua Schachter. Read this column to see in more detail how I'm using del.icio.us before posting your own tricks.
Posted by tshey at 12:31 AM
IMsmarter launches
David Weekly, a geek whose work teaching tech in Ghana we
blogged earlier this year
, just launched the public release of a software project he's been developing for more than a year. IMSmarter is described as "a new kind of instant messaging enhancement that empowers all of the major messaging services with cool, new features -- without requiring a software download or even an email address."
IM Smarter gives users a single place to easily and securely search all their IM conversations from work, home, and elsewhere. It works with official clients like AIM, Yahoo! Messenger, MSN Messenger, and ICQ. It is also compatible with third-party clients like Trillian and even OS/X and Linux clients like iChat and GAIM.
Users can receive reminders and notifications across multiple IM networks... or create new blogs and post to them as easily as sending an IM, and they are notified whenever a user on their buddy list updates their own blog. Blog feeds are available in RSS, RSS2, and Atom formats, and users with existing blogs can automatically republish their IM Smarter blog entries to LiveJournal, Blogger, and Xanga.
The service runs on a cryptographically secured, fault-tolerant cluster of over a dozen servers in two near-military-grade secure Internet facilities in San Diego and San Jose.
Link
Posted by tshey at 12:30 AM
Fantastic photo gallery of sleeping salarymen
I used to work for a Japanese company, and I know about the long hours that Japanese businessmen put in. This astounding gallery of photographs of unconscious salarymen (either asleep or dead drunk) documents a sad side effect of a culture that focuses too much on work. (The nice thing about Japan, on the other hand, is that these guys probably don't have to worry that some jerk is going to take their wallet.)
Link
UPDATE:Chuck sez: Actually, they DO have to worry about this problem. Now that the end of the year is approaching, we can expect a lot of increased warnings and vigilance with regards to pickpockets. Especially after all the year end parties and heavy drinking going on. Pick pockets going after the sleepers on the last train home is a big problem in Japan.
Posted by tshey at 12:30 AM
Straight male seeks Bush supporter
This is a craig's list posting that that was taken down because all good things must come to an end:
Posted by tshey at 12:23 AM
Eat Shit and Die?
When Cory Doctorow lashed out over Apple's disabling a third party iPod song copying plugin in iTunes 4.7, I decided to be prudent and bite my tongue, even though, as the author of a similar product, I naturally have an opinion about the matter. But sitting in Adam Curry's Podcasting session at Bloggercon today, and listening to suggestions that Apple might somehow move to shut down podcasting, followed by a litany of grave "don't trust Apple" warnings, I felt my blood pressure rising again and knew I wouldn't be able to keep quiet. Unfortunately, time ran out before I could comment in the session, so I'm going to ignore my better judgement and post my comments here (the usual disclaimer applies: completely my opinions, not my employer's).
As I see it, there are two problems with the suggestion that Apple might shut down podcasting. First, the only realistic way for Apple to stand in the way of an app like iPodder would be to shut down iTunes' AppleScript interface and/or remove iPod support for open formats like MP3 (which someone in the session seriously suggested they might). The latter would amount to commercial suicide (witness Sony's unfortunate experiment with an ATRAC only audio player), and the former would be unlikely because there are Apple products that rely on iTunes AppleScript (e.g. GarageBand). Second, it assumes Apple would have any reason to even care about how people get content for their iPod outside of Apple's own applications.
And this brings me back to my criticism of Cory Doctorow's screed, which is that he is missing an important point about the nature of the iPodDownload plugin that iTunes 4.7 disabled: it operates within iTunes. It essentially modifies iTunes itself so that it can be used to circumvent iTunes' "no copying from the iPod" policy (it also violates Apple's stated iTunes plugin license). By contrast, my own, standalone application, PodWorks, has been around for almost two years now, and has never been challenged by Apple (even though Apple could easily have made life difficult for me by constantly changing the database format, or encrypting it, sicking the lawyers on me, or things like that). Because PodWorks is a standalone application that has nothing to do with Apple, Apple just doesn't have any reason to be concerned about it.
In my estimation, what it all comes down to is this: Apple is still walking a fine line between giving consumers what they deserve and giving the record companies what they want. In order to continue striking this balance, Apple must avoid any appearance that it is facilitating intellectual property theft, and thus must prevent its music platform from becoming a direct accessory to piracy. I don't think anyone at Apple has the anti-consumer agenda that Doctorow suggests ("eat shit and die!"). If someone actually did, I can assure that PodWorks, at least, would have disappeared a long time ago.
Posted by tshey at 12:16 AM
November 08, 2004
Pupils resort to text language in GCSE exams
Examiners have given warning that pupils are increasingly using text message language in GCSEs, the first official acknowledgment that mobile phone shorthand is undermining standard English, reports the UK UK Telegraph.
"A report published by the Assessment and Qualifications Alliance, the largest exam board in the UK, has disclosed that this year's GCSE English scripts were peppered with the abbreviated words which have become second nature to many youngsters.
The report, compiled from examiners' comments on more than 700,000 English scripts marked this year, said: "Text message spellings, such as U for "you" are increasingly prevalent."
Although anecdotal evidence of the use of text messaging by students has emerged in the past few years, the examiners' report suggests that such abbreviations are becoming the norm.
Examiners found that the trend was accompanied by an increase in grammatical errors.
Dr Bernard Lamb, the chairman of the Queen's English Society, said It is quite appalling that schoolchildren cannot distinguish between ordinary language and text language. It is something that teachers need to tackle urgently if we have reached the stage where students are making such errors in exams."
Posted by tshey at 10:55 AM
Darkness to sell latest single by SMS
Rock group The Darkness have teamed up with chart e-tailer Recordstore to release their first ever download only single, reports NME via The Ultimate Guitar.
Get Your Hands Off My Woman Again will be released as a download only single for a month from Monday November 8. The track is being sold for 99p (or 1.50 via SMS) as a Windows Media Audio 9 file via a Recordstore operated download shop on the band s web site thedarknessrock.com/. The download will be transferable to three portable devices and burnable onto three different CDs
Posted by tshey at 10:52 AM
November 07, 2004
Rare and beautiful nerdgasm captured on 'net
The march of technology has given us access to many incredible sights we never thought we would see: the moment of conception, the death of a star, a man being attacked by a lion.
But now, thanks to the internet, we can see something even more precious unfolding, a genuine nerdgasm. Over on the Force.net message boards, posters were eager to share their feelings as the new REVENGE OF THE SITH trailer went live yesterday.
BonusMage: Wow, its loading. When do you think Extra Large size will be up.
FrogFood: Good lord. 50% download complete. i can't breathe!
DarthPack: Go to starwars.com and a special page appears with a link to the trailer!!! I just got it and it is AMAZING!!!!!!!!
DarthQuack: HOLY SH*T
TK--421: Holy friggin crap this rules.
SlytherinHouse: Extra Large Version coming soon. Oooh, I'm intrigued.
BigChris: IT'S UP AT THE OS!!!!!!!!!!!!
wicket1138: HAHA THANK GOD THANK GOD THANK GOD!!!
Griff_Blazer: Can't see it yet! Stay on target....stay on target...
OBIX1: Oh man! That totally rules! I'm in shock right now. shock
Eeth-my-Koth: THAT'S A LOT OF WOOKIEES!!!!!!!!!!!!!!!
Otherguy62: I think I just downloaded in my pants
...and so on for another 30 pages.
Posted by tshey at 10:05 PM
November 06, 2004
Wired 12.11: The Decline of Brands
James Surowiecki, who is usually seen in The New Yorker, has a new piece in Wired about The Decline of Brands,
Annual rankings of brand value are littered with examples of firms that watched billions of dollars in supposed 'brand equity' vanish - not because they messed with their identities, but simply because they didn't make a product or deliver a service that people needed. Even genuinely powerful brand association is no longer a guarantee that a company will make money. TiVo has revolutionized television, and even introduced a word into the consumer vernacular. But it hasn't made a dime in profit.
He acknowledges the emotional connection that people form with brands, but he focuses strongly on the declining financial value of that connection, taking, as usual, an economic stance. I think he's missing the point. Maybe brands are the point-of-entry, maybe they are a side-effect, not a driver, of having a good story to tell about what you're selling. Check out the article - what would
Naomi Klein
say? A nice response is
here
.
Posted by tshey at 12:20 AM
November 05, 2004
Alternate Reality Games
Two "alternate reality games" are in the news today. Gamers play via SMS, voice messages, Web sites, WAP, moblogs, MMS, ringtones...
The International Herald Tribune reports on a game called I love bees - "an immersive, endlessly intricate hybrid of scavenger hunts and role-playing adventures".
And near near future reports on "Vienen por ellas" (They come for them), "a Chilean ARG game (game of alternative reality), created for Telefonica, that mixes the real world with the game world".
According to the The IHT, the genre began with "The Beast," an online mystery loosely connected to the 2001 Steven Spielberg film "A.I."
"I Love Bees," which comes to an end Thursday, has become far more popular than any of its predecessors, with Internet traffic 10 times that of "The Beast." More than a quarter-million visitors went to ilovebees.com on the day it was launched in August. As many as 500,000 gamers returned to the site every time the game was updated, about once a week, according to Jim Stewartson, 4orty2wo Entertainment's chief technology officer."
Posted by tshey at 05:43 PM
Milk and Cheese on the US Election Result
Posted by tshey at 01:42 PM
Brand Names Take a Beating
Sure, there are more brands than ever. But their value is plummeting as consumer loyalty evaporates. Who's to blame? A new breed of hyperinformed superconsumers. By James Surowiecki from Wired magazine. Excerpt:
Marketers may consider the explosion of new brands to be evidence of branding's importance, but in fact the opposite is true. It would be a waste of money to launch a clever logo into a world of durable brands and loyal customers. But because consumers are more promiscuous and fickle than ever, established brands are vulnerable, and new ones have a real chance of succeeding - for at least a little while. The obsession with brands, paradoxically, demonstrates their weakness.
Posted by tshey at 01:24 PM
Piss on Bush
Posted by tshey at 11:40 AM
November 04, 2004
Don't Hate Me Because I'm Digital
Flawless skin. Perfect hair. Ready to work anywhere and everywhere, anytime you want. Meet five top contestants vying for the title of most beautiful virtual woman in the world. By Brian Lam from Wired magazine.
Kaya is ravishing. She has full lips, long lashes, and a slightly upturned nose. Her expression radiates confidence and power, and her smooth skin is well scrubbed and dotted with freckles. But she doesn't have much of a body. At all. In fact, she exists only from the neck up. Kaya is a CG model, a 48,200-polygon beauty created by an artist in Sao Paulo, Brazil. And she's sure to be a finalist in the Miss Digital World beauty pageant.
Posted by tshey at 04:41 PM
Misery still clings to the streets here
Misery still clings to the streets here. The sun hasn't come out,
as everyone is saying, since George Bush was re-elected.
I have decided that I really don't like Air America Radio so much. Al
Franken is a shrill little fucker, and he's beginning to annoy me. It's
the same shrieky upitsownarse tone that Moveon.org had. Maybe it's just
that I'm far too English, but I'd like a little less OMG and teenagey angst
with my political horror. Bring me some more of the funny and some more of
the newsy and less of the squeaky. No-one needs to hear radio
personalities piss their pants.
Maybe I should go into radio. Diepunyhumans FM with "You're All Doomed."
I'm suddenly put in mind of a TV show Takeshi Kitano used to do (may still
do), the title of which roughly translates as "Japan, This Is Where You
Went Wrong."
I got recognised on the street yesterday. Creepy.
More coffee. Bring me the coffee, Jen. I am using thought power to compel
you to bring me the coffee. I have Famous Powers now, and I telepathically
demand you bring me the coffee.
...
Shit.
___
sent from Treo/Thursday, Mama Buzz, Oakland
Posted by tshey at 04:37 PM
Purple Haze
Xeni Jardin
:
Reader
Jeff Culver
in Seattle says:
"I was thinking today about how the 'red v. blue' states graphic is really misleading considering the slim margins that the candidates won some of those states by, so I sat down and created the map that's attached. In the dozens of hours I've been watching the news I haven't seen one like it, but thought that you and the BoingBoing readers might find it interesting. I think it definitely portrays our fellow states far differently than the extreme way we've been seeing to date."
Link to full-size image. Nod also to Siege, who also thought of this months ago and posted a similar graphic on his blog at Nerve (subscription-only access, and I can't find the link to his post, sorry).
BoingBoing reader Bill says,
"In contrast to your purple map, USA Today has published a country map broken down by county that shows where each party won. It's an even more depressing sea of red than the full US map, but clearly shows how the city folk liked the Dems and the rural folk liked the Reps this time around. Population difference is slight, land area difference is huge."
Posted by tshey at 12:49 PM
Here's the thoughts I've actually been having today between staring at walls, sad.
I hope the Bush girls get impregnated, asap. We need a dashing undercover "condoms are uncomfortable!" type tagteam to impregnate them. Then leak to the press about their abortions. Or let them keep their babies! Either way. Let's watch Bush's morals at work on that one. Longterm: The babies are gay.

I wish I grew up somewhere in Ohio hating gays and loving Jesus and war. That way I would be right today.

Maybe Teresa should have worn more hairspray. Bush and Laura look like they are chiseled out of marble...Kerry does too, as a matter of fact, very sharp...Would more hairspray have done it?

Money and religion. Money and religion. Money and religion. It all comes down to God and corporations.

OBAMA for 3018!!!

X X
L
---

Posted by tshey at 12:39 PM
And San Francisco collectively said "aaah, shit,"...


And San Francisco collectively said "aaah, shit," opened a bottle
of whisky and lit up. Natasha's good champagne stayed in the fridge. Bill
slapped everyone on the arse and passed out. Melissa, artfully bombed on
cocktails, commented at one point, "Are we hurting America, or is America
hurting me?" Laurenn, black thunderclouds of doomy presentiment clustered
around her head, gave up and curled up. And the sky today is gloomy, for
the first time since I arrived. Nothing but grey over a subdued Castro.
The only happy people I've seen today are two staggeringly stoned lesbian
hippies who appear not to know which country they're in. And while they're
inside the coffee shop managing their munchies, the cops are ticketing
their hippiemobile on the street.
Game over. No extra life. Not for another four years, anyway.
___
sent from Treo/Tuesday, Castro, espresso
Posted by tshey at 12:37 PM
P2P for cell phones: Reach out and share something
Cell phones are learning to share files, but the earliest efforts don't nearly resemble the peer-to-peer renegades like Napster and Kazaa that the designers have in mind. CNET Asia reports.
"FoneShare, an application introduced two weeks ago by NewBay Software, does let people share their collections of ring tones, graphics, games, songs, movie trailers and other wireless extras with strangers.
FoneShare will debut next year as a subscription service, running over privately owned and operated cellular networks, and the sharing will be done via Web sites controlled by a wireless operator, said NewBay Chief Executive Paddy Holahan. That's a far cry from Napster, which was free, let people choose from digital music libraries stored on untold millions of personal computers, and relied heavily upon the anonymity of the public Internet."
Related: Newbay Announces Mobile Content Sharing Application

Posted by tshey at 12:35 PM
United States of Canada and Jesusland
No nonsense border patrol please:
* Thanks for the gem, Lars!
Posted by tshey at 12:11 PM
Optimistic Critical Thought Begets Stronger DEM Party
I am back and psyched!
A day of mourning, 8 hours of sleep and cups of espresso have something to do with it.
Mostly, I am profoundly excited by the fact that people are talking about what went wrong, how could we have done better, how do we change to win in '08??
And this is exactly what we should be concentrating on now.
We are a smart party, people.
Let's start now to regroup, rethink and restrategize the Dem Party.
Some good thoughts to get you revved up:
Simple but Effective: Why you keep losing to this idiot.
Democratic Values: How to start winning the red states.
And yes, all future post titles will follow the ______ Begets ________ format.
Photos that'll make Republicans quiver at my new strength and determination:
Posted by tshey at 12:11 PM
Defeat Begets Strength to Persevere
I'm stunned and feel unprepared to write or say anything about Kerry's defeat. I truly believed we'd be celebrating and joking about being unable to stop smiling. What a surprising, complex and maddening blessing, democracy is.
After canvasing for days in the hot Florida sun and having been bombarded on election day with astonishingly positive exit poll numbers, defeat feels like getting the wind knocked out of you while agonizing over a break-up. This was a brutal wake-up call but consider us awoken and kicking.
We cried more than once today but we know that we must persevere, fight and hope, harder and stronger than ever.
* Andrea, Jonah, Susan and John at ACT headquarters in Fort Lauderdale, FLA.
Posted by tshey at 12:11 PM
How can 59,054,087 people be so DUMB?
Today's front page in the Britain's Daily Mirror. I'm fairly sure that there's a large number of people around the world who are asking themselves the same question. If you're interested in this stuff, the BBC has a page which summarises UK newspapers reactions to the US election result.
Posted by tshey at 12:07 PM
November 03, 2004
Climate change is here, now, say scientists
The ACIA report says the Arctic icecap has shrunk by 15-20 per cent in the past 30 years and the contraction is likely to accelerate.
Posted by tshey at 04:31 PM
Starting Tomorrow
Today the entire world watches nervously while voters fill the ballot boxes of America. Few intelligent people -- of whatever political stripes -- disagree that this is one of the most important elections in the history of the American Republic. Given the power, wealth and cultural importance of the United States, our next president's choices will directly and significantly impact the lives of every person on our planet. This election, in short, is a very big deal.
We are not a partisan site -- not because we don't have a variety of strongly held political views, but because we're trying here to be part of creating a different kind of conversation about the future: a conversation more about solutions than problems, more about collaboration than conflict, more about tools than talking points, more about the tomorrow's planet than today's politics.
Because when it comes to solving the real problems facing this planet, neither party in American politics can claim the high ground, or even, to put it bluntly, much grounding in reality at all. In this first presidential election of the 21st Century, a realistic understanding of the problems we face as a planet and the role the U.S. could and should play in solving them should have been a matter of daily debate. Instead, we've gotten saber-rattling and name-calling. But pandering to the worst inclinations of the American electorate doesn't make any of us safer or the world more stable. This year, the entire political establishment has failed grotesquely to speak plainly about the objective realities of the world.
We can do better. We must do better. Regardless of who is elected president today, we must now begin to forge a reality-based plan for the planet.
In that spirit, we'd like to offer some observations about the kind of questions to which we must begin to find answers. Perhaps we can all mull them over as we watch the returns tonight.
[read the rest at Worldchanging]
Posted by tshey at 11:10 AM
Couldn't help it!
I was so so proud to read the presentation of the new Eyebeam reBlogger. Max, the hidden half of Near Near Future will have the difficult task to succeed to Ben and Mena.
The other shock for me this morning was to read who will probably win the US Presidential elections.
Posted by tshey at 11:07 AM
Congratulations to OBAMA!!
Maybe a president someday...
Posted by tshey at 11:01 AM
it's over. let it go
Wrong, wrong, yet again, I was, we are, wrong. I was on an airplane last night, from SFO to London, so at least I didn't suffer the minute by minute awfulness of this result. But it's 5am PST, and we should remember some principles: When Bush "lost" in 2000, we said it was because (1) he had lost the popular vote, and (2) he had short circuited the count in one state to win in the College.
Bush has won the popular vote. And it would take a freak of nature to imagine the 220,000 provisional ballots would fall strongly enough to shift Ohio. He will win the College. He is our President -- legitimately, and credibly.
Our criticism of this administration must now focus narrowly and sharply: on the policies, not on the credibility of the man.
[Larry highlighted one comment on his post, from adamsj, who he thought captured it best:]
I'm going to spend time these next few days looking for the America in my heart. It may be a while before I see it anywhere else.
Posted by tshey at 10:58 AM
The people of America have failed us today
As Larry says, "It's over. Let it go." Jon is saying, "Don't complain - organize!" Although the previous post about the wacky voting system is interesting, it's unlikely that any sort of recount or technicality will change the fact that today, the people of the United States of America have voted for George Bush. It was close, but the Americans have chosen Bush. It's a sad day, but in a democracy, you get the politicians you deserve/vote for. This was their chance to change their leader and they have failed. For awhile, many of us thought that they had been conned into voting for Bush - that they didn't know he wanted to be a War President. Many people didn't equate the US policies with the people of America. We thought they had made a mistake. Now US policies = US Citizens. You Americans have my sympathies, but it's still your fault.
[Ouch! --ts]
Posted by tshey at 10:53 AM
Talking G.I. Joe with Lip Sync
This 12-inch G.I. Joe doll—Duke, if you must know—not only has buttons to make him shout commands, but also uses "VOICE FX" to cause "realistic facial movements." Of course, that probably just means he opens his mouth to lip sync, but that's still pretty impressive for a $15 toy (okay, so there were things like Teddy Ruxpin, like, 20 years ago, but I still think it's cool).
Soon we'll have dozens of dolls that can play back pre-scripted recordings and facial movements and kids will use them to make home movies, which the internet awesome-watchers will herald as a "revolution in proletarian filmmaking" and give it a name like 'toychinima.' (Thanks, Rob!)
Catalog Page [eToys]
Posted by tshey at 10:50 AM
Watchdogs Spot E-Vote Glitches
Activists watching the election say they received hundreds of calls from voters reporting e-voting problems -- some small, some significant. The observers file lawsuits in precincts where the glitches cause alleged disenfranchisement. By Kim Zetter.
Posted by tshey at 10:46 AM
Fuck Fuck Fuck
Looks like I was right to be freaking in my previous post. I'm reading that the networks are calling this for Bush (can't stand to watch'em). The only explanations I can fathom are: The Christ-squad came out in force to defend their False Jesus;
the youth vote stayed home
; and in the months before the election, the right wing media (meaning the networks, newspapers, etc) continued to bestow the appearance of legitimacy on Bush even though he's an election cheater, debate cheater, and killer of thousands of innocents. Fuck.
Juan Cole has a
recap
on where the race actually stands as of the wee hours Wednesday morning. If offers some hope but not much.
UPDATE, Wednesday: So, I see Kerry has conceded. Ouch.
UPDATE 2: I had an epithet directed at young voters that has been deleted. According to Joshua Marshall, "Young voters showed up at a far higher level than they did four years ago. But everyone else did too. And so the proportion of the electorate made up by the youth vote did not increase. At least not dramatically..." I've heard one reason for the Bush victory was people don't want to change leaders mid-War. To some extent this is an indictment of Kerry's failure to offer an alternative. But we know he would have lost on a peace initiative. I think what it comes down to is the majority of Americans are racist and aren't offended by the idea of genocidal war.
UPDATE 3: This 1972 Hunter Thompson quote from Billmon says it better:
This may be the year when we finally come face to face with ourselves; finally just lay back and say it -- that we are really just a nation of 220 million used car salesmen with all the money we need to buy guns, and no qualms at all about killing anybody else in the world who tries to make us uncomfortable.
Posted by tshey at 10:40 AM
November 02, 2004
Images of America voting
People are taking photos of their ballots, their "I voted" stickers, etc.

Uploaded by nerdelite on 2 Nov '04, 3.20pm EST.

Uploaded by capndesign on 2 Nov '04, 3.20pm EST.
Posted by tshey at 06:43 PM
Voter Moblog
People are moblogging as they vote at ballot.textamerica.com. Moblog email address is blog (at) tamw.com. And (as mentioned in an earlier post) there's a site set up to gather images and videos of possible irregularities at polling places: Video Vote Vigil. Moblog email address for V3 is vidvote (at) gmail.com.
Posted by tshey at 06:25 PM
Nationwide Indymedia Coverage of Elections
Indymedia launched a new United States-centric site just in time for the elections. Check there for links to various local indymedia sites giving grassroots coverage of the lection and polling. many have set up toll free numbers to report breaking news of voter disenfranchisement, harrassment, etc and SMS text updates to stay updated and informed about what is going on.
Posted by tshey at 06:25 PM
Beyond Voting
Beyond Voting is organizing Smart Mobs:
No Matter What Happens on Nov. 2,
30+ Cities Plan Nov. 3 Demonstrations
As a nation deeply divided on the war in Iraq heads to the polls today, anti-war and pro-democracy organizers in cities across the country are making preparations for demonstrations on Nov. 3, the day after the election. Emphasizing health care, education, the dangers of current US foreign policy, and drawing attention to mass-disenfranchisement and the flaws in the electoral system in the United States, Beyond Voting ? demonstrators will hit the streets in over 30 cities, including Washington DC, Chicago, Toledo, Pittsburg, Vermont and San Francisco. The demonstrations are designed to spark a grassroots dialogue on The Day After ? about the real meaning of democracy and the next steps for taking the country back post-Nov. 2, and provide a local forum for neighbors to come together and assess the outcome, or theft, of the 2004 election.
The full article is here.
Posted by tshey at 06:25 PM
The vote
Yes, the newspapers were right: voting was general all over America. Levers were falling on every part of the dark central plain, on the treeless hills, falling softly upon the Philly streets and, farther south, softly falling by the dark mutinous Palm Beach waves. They were falling, too, outside the Oval Office on the hill where George Bush sat watching. Hanging chads, come from nowhere, lay thickly drifted on the porticos and pillars, on the spears of the rusting fence, on the barren thorns. His soul swooned slowly as he heard the vote falling faintly through the land and faintly falling, like the descent of their last end, upon all the lying and their dread. (Apologies to JJ.)
Posted by tshey at 06:22 PM
How'd your vote go?
As important as this particular presidential election is, I'm more interested in the longer term factors affecting the voting process in the US. The electoral college system, how the media's election day coverage influences voter turnout, the construction and dissemination of information to voters by state and federal authorities, the voting process...basically the user experience of voting.
So if you've voted today (or earlier by absentee ballot), I'd like to ask you: how did your voting experience go? Any problems? How did you find out where to go and when? Did you vote using a computer? Any better/worse than a paper ballot? Were election officials helpful? Was there anything in particular you wished had been done differently? If you planned on voting and were unable to, what was the reason? Those are just suggested questions...basically I'd just like you to share the story of your voting experience, from registering to the actual voting process. In sharing our stories, maybe we can have some effect on changing what doesn't work for the next election. Thanks.
Update: Lots of great responses so far (over 200 of them). Thank you and keep 'em coming! See also some election day images from Flickr (here's a shot from inside my voting booth).
Posted by tshey at 06:00 PM
BBC NEWS: 'Miserable failure' links to Bush
George W Bush has been Google bombed.
Web users entering the words "miserable failure" into the popular search engine are directed to the biography of the president on the White House website.
Posted by tshey at 05:12 PM
Popgurls.com's Coverage of Whedon's Kerry fundraiser.
Allyson from Popgurls.com describes her experience at the big "High Stakes Hootenanny."
MODERATOR: Some person who lives somewhere wants to know if Sunnydale County votes Republican or Democrat.

ALLYSON'S BRAIN: Oooh, that's an adorable question, I must concentrate so I remember it.

JOSS WHEDON: Sunnydale is a place where the people in charge want the citizens to keep their heads in the sand...

ALLYSON'S BRAIN: Hey, Amber Benson and Adam Busch are still dating. She has shiny hair. Shit, I'm not concentrating.

JOSS WHEDON: So, no, I'm not going to write or direct X-Men 3, because I realized no one asked me to do that and if you show up and start directing a movie when no one asked you to...

ALLYSON'S BRAIN: Shit, I totally missed the Sunnydale answer. I wonder if this will take the full two hours. Amber Benson has shiny hair.
Posted by tshey at 11:30 AM
"The Choice" as explained by The New Yorker
The New Yorker's November 1 editorial on the upcoming election is by far the most thorough and compelling explanation I've seen of why we should vote for John Kerry.
[I agree - and was looking for this link. --ts]
Posted by tshey at 11:08 AM
the mobile vote
Old news: The President of Zogby on Thursday predicted Kerry. That may be because of this new news: As its headline reports,
Young Mobile Voters Pick Kerry Over Bush, 55% to 40%, Rock the Vote/Zogby Poll Reveals: National Text-Message Poll Breaks New Ground.
This is the South Korea factor: Unpolled voters, with a radically different view from the norm. You can read Zogby's press release
here
.
Posted by tshey at 11:07 AM
Plus la Massive Change...

Massive Change: registering opinion
Originally uploaded by blackbeltjones.

... the more stuffy galleries stay the same...

I wasn't expecting to be impressed by the Bruce Mau instigated and designed "Massive Change" exhibition, and the densely-set, impenetrable and prententious prose that decorated the first room just reinforced my preconception.

But then, pretty quickly it hit it's stride with innovative displays of process and prototype models for Dean Kamen's Segway and his kerb-climbing wheelchairs; and input tools for computer system of the last 30 years. Other rooms like one focussed on types of scientific imaging, and another on visualisations of the Earth were dramatically staged and rich with content.

However, the exhibition's stated goal is that it is not about "the world of design, but the design of the world" (something touched-on here before now) - it's job is to infect visitors with possibility and have them carry that out into the world. It is also a show that relies heaviliy on visual evidence, often densely-overlayed and spectacularly staged visual evidence, that might require some reflection from the visitor before the ideas could be taken on board.

Why is it then that Vancouver Art Museum doesn't allow anyone to take photos of this visual evidence? I asked and was given a standard policy line.

Liz Goodman and myself then just resorted to a kind of cameraphone cat-and-mouse with the gallery attendents and trying to look like we were texting with our phones when they circled by. We were timing their passes and whispering "cover-me" by the end of our visit, like we were near completion of some imaginary "Metal-Gear Gallery" stealth-imaging game.

If the goal of the show is to instill massive change, why restrict the spread of the ideas contained within the show to within the walls of the museum?

Mau would do well to revise the next staging to allow some kodak moments for aspiring design activists.
Posted by tshey at 10:06 AM
Count the Night Away (wp.com)
For D.C. folks still in the area that haven't decamped to the swing states, the Post has put together a list of all the bars & clubs
hosting election night parties tonight
, including a Rock the Vote fundraiser at 9:30 Club (Bob Mould will DJ) and what could be a cool night at the Black Cat. The classic, of course, is Stetson's, especially if you can get some time at a pool table while you watch the results come in.
Posted by tshey at 07:57 AM
November 01, 2004
apocalypse now:
Indy Magazine, the online quarterly about the comics medium, returns in time for the U.S. Presidential election to examine the intersection of comics and politics.
Features include Ephemera vs. the Apocalypse by Art Spiegelman, illustrated with sketches from In the Shadow of No Towers. Says Spiegelman: "Everything I know I learned from comic books, and I wasn't surprised that aliens had taken over our government..."
Posted by tshey at 05:42 PM
Amazing - 51 papers ditch Bush
Charleston | November 1 wvgazette - Remarkably, 51 American newspapers that endorsed Republican George W. Bush in the 2000 general election have renounced him after watching his performance in office. Forty switched their support to Democratic nominee John Kerry for Tuesday's balloting, and 11 others abstained from endorsing anyone. For example, Florida's large Orlando Sentinel has backed every Republican nominee since 1968 -- but not this year. "This president has utterly failed to fulfill our expectations," the paper declared, urging its quarter-million readers to vote for Kerry.
Posted by tshey at 05:35 PM
Witches executed long ago will be pardoned at last
Caterine McAloon | London | AP - On Halloween, a Scottish town is to officially pardon 81 adults and children executed as witches centuries ago.
Posted by tshey at 05:35 PM
U.S. agent sparks Afghan false alarm
Stephen Graham | Kabul | October 31 AP - A U.S. agent hidden under a head-to-toe veil on Sunday sparked fear of a suicide attack in the Afghan capital by fleeing from police who tried to search her, officials said.
Posted by tshey at 05:34 PM
Vintage car with a digital twist
Dave Slocombe and Natasha Sopieva, from the Interactive Design Institute in Ivrea, have updated an old Fiat 500 with a multimedia high tech soul.
First, the car open only if you send it an SMS (by keying in the registration number on your mobile); it replies by flashing its headlights and sending a message of acknowledgement from the owner, with comments such as: "Good evening, welcome back! By the way, I'm thirsty, I'm out of fuel..."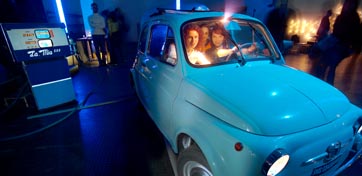 Its sun visors feature make-up mirrors on the back, with TV cameras to film and/or photograph the crew, while the rear windows are screens on which you can draw or write emails and text messages to be sent in real time. "Through wireless networks and with GPRS connections", says Natasha, "messages, sketches and images are stored on the car's website".
When hooked up to a fuel pump to fill up with petrol, the vehicle can download mp3 files from a jukebox inside the pump. And when the FIat is parked, a device installed between the two headlights, project its memories to the outside -films and images stored during ist daily trips.
The Fiat is displayed at the Piazza delle Feste in Genoa (Northern Italy), till November 8.
Posted by tshey at 11:18 AM
ConQwest
ConQwest is a Big Urban Game of the same ilk as PacManhattan. Basically a treasure hunt, high schoolers find Semacodes (an evolved form of the bar code), photograph them with their camera phones, and send them in to HQ for points. The winning school gets a $5000 check from Qwest.
If you're in Salt Lake City tomorrow or Phoenix on 7 November, check it out!
Posted by tshey at 11:15 AM
City Cell Service Still Sucks
In the latest survey about city cellphone service, it seems that
more areas are being tagged as crappy
for reception. Though the data was collected from 311 complaints and only "meant for consumer education" ("not a scientific survey"), the NY Post reports that the information indicates that Chelsea, Greenwich Village, and SoHo are added to the list of Midtown and Wall Street as bad cellphone zones. One possibility is that the concentraion of cellphone antennaes (2150 in Manhattan alone; another 1100 in the other boroughs) may be causing interference with each other. Another is just the presence of tall buildings. However, with these other neighborhoods with lower bulidings and zoning restrictions, Gothamist guesses that overly gentrified neighborhoods are not conducive to service. Lower East Side and parts of Brooklyn - you're next!
The City's study on cellphone usability from last year.
Posted by tshey at 11:12 AM
New group blog on e-voting
Xeni Jardin
: Ed Felten says:
[We've launched] a new group blog on e-voting, from a group of leading experts on e-voting technology. Members thus far include David Dill, Ed Felten, Joe Hall, Avi Rubin, Adam Stubblefield, and Dan Wallach. The site's goal is to provide one-stop shopping for e-voting news and analysis, to the public and the press, on election day and thereafter.
Link
Posted by tshey at 11:04 AM
momentum
For the last two days,
electoral-vote.com
has tracked a shift in all the most recent state polls, with Kerry suddenly leading Bush in electoral vote predictions,
298 to 231
. There are ample reasons: Kerry seems to have finally built some serious momentum in his slow, consistent, deliberate way, and how can anyone ignore the constant bad news for Bush: in the last couple days alone, we had over 300 tons of high exploives unaccounted for, Osama looking healthy and fit and trying to tell us how to vote, and Eminem calling him a liar on Saturday Night Live (in what looked to me, BTW, like a lip synched performance -- what's the deal with that?). Anyway, here is the
newly unmasked
Andrew Tanenbaum's summary from today:
We have another bumper crop of polls today, 50 in all. Since Sept. 1, the total number of polls in the Polling data file is 937. Toss in another 252 polls from May 24 to Aug. 31 and we have the most studied election in the history of the world. And what's the conclusion? Nobody knows. If we just look at the most recent poll in every state, John Kerry will be elected the 44th President of the United States tomorrow with 298 votes in the electoral college vs. 231 for George Bush, with New Mexico and New Hampshire exact ties. However, even if Bush carries both of these states, Kerry still wins 298 to 240. But again, a caution is in order, Kerry's margin is razor thin in Pennsylvania, Florida, and Ohio. Pennsylvania will probably go to Kerry. Ohio is more iffy. Bush won it in 2000 and stands a decent chance of winning it in 2004 although he trails by 2% using the average of the Zogby and Gallup polls taken Oct. 28-31. Thus after 4 years of campaigning, more money spent on attack ads than the gross national product of small countries, and an exhausted electorate, what do we have? In the immortal words of Yogi Berra: "It's deja vu all over again." The whole thing comes down to Florida. where Kerry currently holds a tenuous 48% to 47% lead according to the most recent poll, from Zogby. The reality is that everything depends on turnout, how many voting machines fail, and how much monkey business happens. Oh, yeah. And there are those 10,000 lawyers ready to do what lawyers are trained to do--file lawsuits.
Posted by tshey at 10:45 AM
Working iPod costume
Cory Doctorow
: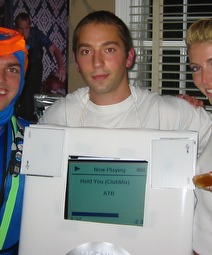 This guy modded his Tablet PC and a rewired USB mouse and built a "working iPod costume."
Link
(
via /.
)
Posted by tshey at 10:40 AM