May 18, 2005
Originally posted by Cory Doctorow from Boing Boing, reBlogged by ts
Cory Doctorow
: As I
mentioned
, the organizers of this year's E3 gaming conference issued a call for attendees to bring treasured junk to stick onto a real world Katamari Damacy ball (
Katamari Damacy
being a stupendous game in which you roll a ball over objects, which stick to it, making it grow larger).
Here's a sneak cameraphone pic of the ball, which goes on public display shortly. Link (Thanks, KHY!)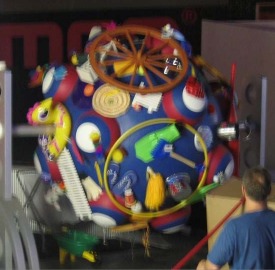 Also
: a rep from Namco has promised a mobile version of the game soon.
I had the opportunity to chat with Scott Rubin, Namco's North American GM recently, and he promised a mobile version of KD was in the works. "It's one of our favorite titles internally, and we've already sent versions of the PS2 game to all of our carrier partners," said Rubin. "And they loved it." As for timing, Rubin expects a 3D version of the game to show up in Asia towards the end of the year, with North America and Europe following shortly… Rubin: "We can't wait for it to happen, it's just a matter of timing."
Link